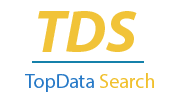 This video shows how the Live View function works in TopData Search.
The Live View function allows you to view complete contact information for the records in your search directly in the browser, without downloading as a spreadsheet.
When you "Live View" a record it is added to the "Live View" list at the top of your Orders.  This is the spreadsheet of all records you have viewed on screen and can be downloaded any time with new records added every time you view them.
Records you have previously Live Viewed or downloaded as an order are not added to the "Live View" list and you are not charged a second time for them.
Get your FREE TopData Search account Here
---