27 Mar

Episode #15 | Jordan Mason | Top of Funnel Digital Marketing

B2B Marketing, Business, Elephant Test Podcast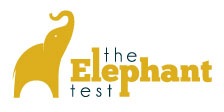 Jordan Mason is the digital marketing manager for Marchex, a B2B SaaS call analytics company. Jordan runs Marchex's SEM and SEO campaigns focused on driving leads by showing the right content to the right people at the right stage in the customer journey. He is also the company webmaster with an emphasis on web personalization and experimentation. Before entering the world of B2B marketing, Jordan was a TV sports anchor for a couple NBC affiliates where he whet his whistle for the power of digital marketing. In his spare time, he likes doing anything competitive, from a pickup game of basketball, eSports match, or a head-to-head Jeopardy showdown with his wife Brittany.
Resources and info <book recommendations, resource links, etc>
If you have questions about the Elephant Test or would like to  suggest a guest, please email us at ElephantTest@Mail.com.
To hear this episode, and many B2B marketing conversations, you can subscribe to The Elephant Test on apple iTunes or where ever you get your podcasts.  You can also listen to every episode here.